(Last Updated On: December 20, 2021)
You might think that vlogging is all about uploading videos on YouTube, it seems easy right? But behind the scene, it's a very methodical approach, it's not about just knowing how to vlog or purchasing the right vlogging camera, that's just the tip of the iceberg. If you look at articles, they describe vlogging as a piece of the cake well it is. But have you given a thought that what will make you a successful vlogger?
Before talking about the steps and vlogging equipment that you might get all the help with, you may need to think that what does being successful means to you? Is it all about getting a higher number of subscribers for you? Or does the number of viewers matter to you?
While giving this a thought on the other hand you might need to consider that just like in every profession you need to reach a certain point to call yourself professional this one also needs the same approach but there are some steps that you might need to polish to become a successful vlogger. I'm sure by the end of the article you will have a clear mind on this and would make the best decision out of it.
Let's talk about the first step:
1. Finding your niche
With the help of interest and prospects related to your content, you have to build up the interest of a maximum number of your viewers. After determining your niche, you must analyze those competitors who are at the same level and play wisely according to that. With this help, it will not only trigger the audience but also will help to avoid mistakes and will help you to understand how this profession works.
2. Understand your audience
Once you completely know your targeting audience you must get full information about your viewers and create content according to that. Why you should be more focusing on that? People watch videos, read blogs to even find solutions to their minor problems. You must research the most likely problem your viewers are facing and try to create positively related content on that. You'll notice progress in your subscriber graph within time. Why? You are giving exactly what the audience wants or needs at that moment which not only makes your viewers cheerful but will also expand your audience way over.
Some people may find difficulty getting into their audience's mind. It can be solved by interacting before creating content on those platforms where the majority of your audience is. This will help your audience to understand your personality and perspective which will be an important key in knowing how to vlog successfully
3. Prepare your vlogging equipment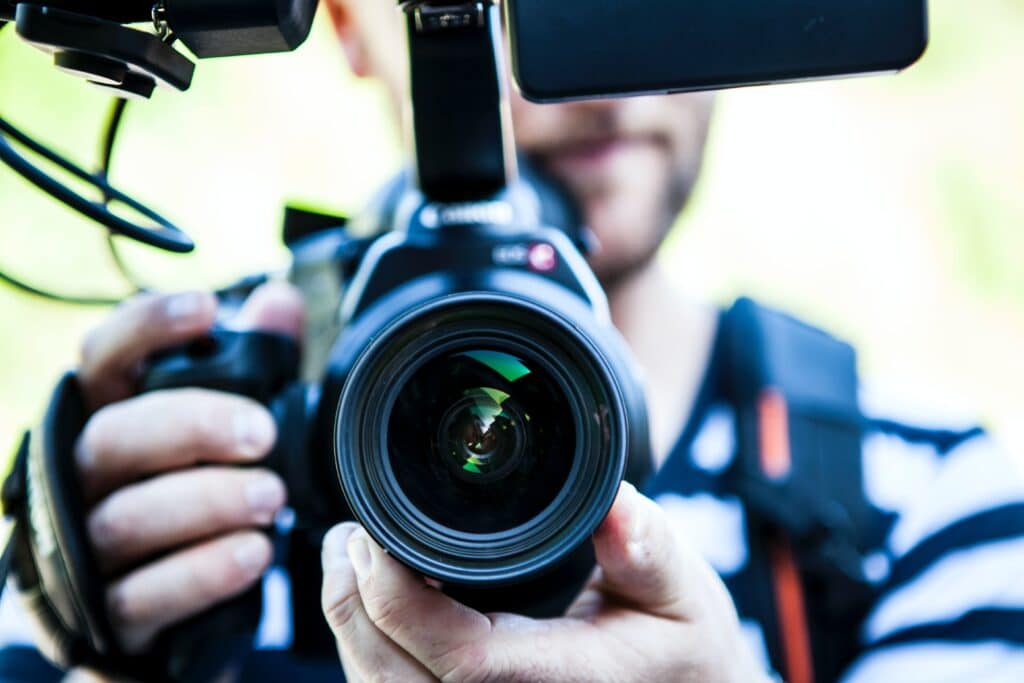 People believe that buying expensive material will greatly affect your success rate. But that's not true some people do start with a phone and their success is worth a gem. The thing that matters is using even that small equipment in the right way. But if you are in such a situation where you need to purchase vlogging equipment so many essential tools can help you in different situations and will be easily affordable.
First of all, starting with a most essential tool for vlogging, which is the camera you can either use a mirrorless camera or an affordable DSLR. All these types of cameras depending on the type of content that you are trying to create. In some situations, you might get the need some extra lightning for that you can purchase a tripod that can be easily accessible. The main aim of a tripod is to get focus on the subject to get viewers' attention.
Next comes a microphone, people think that video quality only matters but the audio is also an important factor when it comes to vlogging. In most situations, viewers' interest rates decrease not because of the HD quality but due to bad audio, it's kind of a deal-breaker. So, it's better to invest equally in an external microphone for vlogging mostly people purchase attachable shotgun microphones like the RODE Video Mic Pro which completely game changer.
And that's it the best and affordable camera you can afford, an external microphone and a tripod. These are essential vlogging equipment that will help you to kick a start off. But on the other hand, using good editing software can also play a great amount of role.
4. Share your videos on other platforms
Do you know each person invests around 8.4 minutes per day on YouTube? If we compare it with 5 billion people it's a BIG number. With the help of this mathematical method, you can avail yourself of this opportunity in many ways, one those ways are by sharing your content on other platforms like Instagram, Facebook Tik Tok, and other amazing platforms. Why? Because these platforms are free of cost and people stay active most of their day without getting bored of it.
People assume that staying active all day and interacting with the audience by replying in the comment section or by going live is an unchallenging job. But once you are in this profession, you'll see that the hard work it requires is just like the other profession, because you have to put your best in projecting ideas and creativity to attract audiences. But once you are familiar with this process you will know at which pace to work and how to attract the audience and the ways to do it. Within time you will see progress in your viewer's scale and everything will pay off.
5. Creating your video
Let's say you have understood your audience, prepared your vlogging camera gear, and devised a marketing strategy for your vlogs, you've learned how to vlog. What's intuitive the next step you should take? Creating some engaging content. There are a few tips and tricks you should follow to create videos that attract a majority of the audience you are targeting.
Firstly, you should thoroughly research anything you will mention in your videos. There is nothing worse than misguiding your audience with incomplete information and there is nothing better than providing content to your viewers that is informative, true, and truly helpful. While keeping this in mind, make sure that you do not just repeat words said on the internet by any other vlogger. Provide something unique. Perhaps a perspective they can only get from you. So by the end of your recording do review your material to check for authenticity and plagiarism. That being said make sure that your video format and settings are in such a way that maximizes visibility for your audience. That means your videos should be easily viewed regardless of the device your viewers are watching your video from. You can tweak video settings to accomplish this. Perhaps the most important thing that should be in your video should be a call to action.
When a viewer watches your videos, what is it specifically that invites them or better yet urges them to watch more of your videos? Make sure the call to action is crystal clear in each video. But just that isn't enough, you only exponentially grow on YouTube if you along with your subscribers share your content and for that, you have to make your content easy to share so be sure to provide an HTML link to your audience so they can share your video on Facebook, Instagram, Snapchat, and all other popular social media channels. Moreover, it is very important to have a distinguishing identity on the web, make sure you have a polished website describing yourself, and make sure that you provide the URL to this website of yours in your video for your audience to know more about you and the work you have done.
One of the key differences between successful vlogger and the rest of the herd is interaction. You'll notice that the number of interactions between the successful vlogger on YouTube is significantly high. They do not miss any chance to interact with their audience whether that means answering their questions, responding to their comments, or even arranging meet and greets. Make sure you establish a personal connection with your audience. Follow all the tips we have mentioned and we guarantee that you will see a spike in the growth and retention of your audience on YouTube.
6. Eradicate haters from your list
This tip is one of the important ones because sometimes negativity from the audience greatly affects vlogger. But that changes the game when you get to know how to work with this type of audience. In this profession now or then you will get some likes and dislikes but make sure you must know how to play with it. You should always focus on the positive side because that will not only affect your mental health but will have a great impact on your audience. how? Your action truly matters on this platform because your viewers are observing your action and drawing your personality in their minds. So, you must make them think about what you are. But that's not enough you must deal differently with all those negative comments. Just keep in mind your viewers will always have an eye on you. Always try to focus more on showing yourself on highlights than the negativity that is thrown at you.
7. Don't expect to gain millions of subscribers within a year.
Sometimes vlogger expects more than you think. This profession isn't easy as people think it is. Getting success is way harder than you think. Mostly for bloggers, it takes years just to gain a bunch of subscribers. the tip that you must keep in your mind is that this profession requires a lot of patience, you will face a lot more failure than success but if you are serious about it and ready to take this as your profession then don't give up keep trying and put your best to it and you will see a difference and that's going to be worth it. Moreover, try to work statistically on your goals for viewers. Don't expect much that's a great setback for vlogger. Try to set values on each video with the help of that you will be able to figure out how what is more is needed in your videos and how to improve your skills.
Conclusion
And here we are again. Hopefully, with the help of tips and tricks, you will be ready and motivated enough to create your first vlog ever. Keep in mind that first, you need to find your niche, understand your audience, prepare your vlogging equipment, share your videos on other platforms, most importantly knowledge about creating your videos, and lastly least expectation of reaching millions of subscribers in a year. It will be quite an experience will a lot of huddles but in the end, it's going to be worth just don't lose hope and keep improving yourself.